Greg Stumpff, founder and artist Reed Spring, MO
Greg's passion for all forms of racing is exemplified in the diversity of the helmets he has painted – from motorcyclists', kayakers', monster truck drivers' and everything in between.  Greg realized his passion for motorsports at a young age as he began competing in dirt bike races at the age of four. It wasn't until high school that he honed on his skills with an airbrush and realized he could combine the two things he loved into a business.  He started out airbrushing t-shirts for fellow students at school and at a local theme park. He then moved onto painting helmets for his friends, who raced at local dirt tracks. After high school, he took his talents on the road, traveling with a dirt modified racing team and painting helmets on the side. It wasn't until 2012 that he turned his dream of making helmet painting a career into a reality by moving to North Carolina and opening his first shop in Troutman, NC. While he claims the first location was nothing to write home about, the business continued to grow, officially becoming a LLC in 2014. Today, Off Axis Paint calls Mooresville, NC home – with a 5,000 sq foot shop, including a state of the art airbrush booth.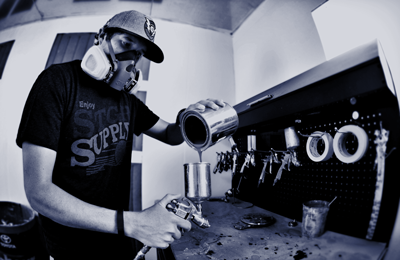 ---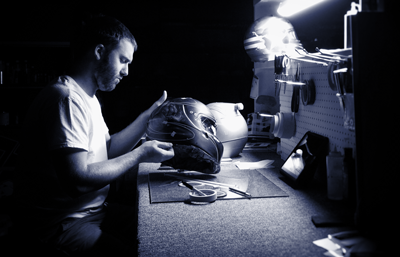 Noel McEwen, artist
Also a Reeds Spring, Mo graduate. Noel & Greg have been working side by side since 2001 in their early high school days. Painting everything from motorcycle tanks to children's hospitals. It's no question as to why the 2 have such great chemistry working on countless projects together. McEwen is probably the most well rounded artist in the shop and able to pull off any custom order a client can throw at him with over the top results. His specialty though has to be the photo realism portraits he has put on the back of helmets. He takes pride in the fact that he doesn't use decals and all the art work is hand done. His favorite customer to work for is Matt Crafton because of his requests for Marilyn Monroe on every helmet.
---
Michael Sauers, artist
Employee at Off Axis Paint since 2013. Sauers specializes in cleaner euro style designs and retro paint schemes on helmets. Before Off Axis he spent 4 years at The Art Institute of Ft Lauderdale, FL and studied for a year and a half at Animation Mentor in advanced character animation classes. Sauers adds a unique perspective to the shop because of his animation background. Favorite customer to paint for in the shop is Chris Buescher because he's always easy to work with and enjoys the clean looks of his helmets.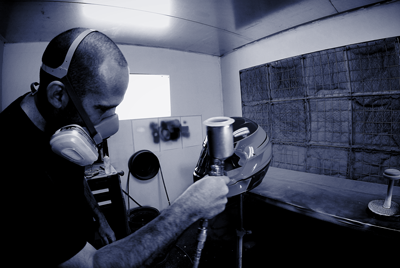 ---